Sexual harassment allegations are an urgent test for government
The dramatic events of the last month in Australia's parliament have highlighted the central issue of gender inequality, sexual harassment and sexual assault.
The voices of women are loud and disruptive – demanding that action and change occur.
The clarity and advocacy of sexual assault survivor Grace Tame as the Australian of the Year has been eloquent and impossible to ignore. The response to Brittany Higgins speaking out about the alleged rape she experienced in the national parliament house has highlighted both the toxic culture within parliament house and the impact that speaking out is having on both herself and her partner.
Australian of the Year Grace Tame speaking at the National Press Club in March 2021. 
New questions are now being raised about whether the Australian Attorney General, Christian Porter is "a fit and proper" person to hold his position given historic allegations made against him by a woman who has since taken her own life.
The New South Wales police have closed their investigation into the matter, but an important question remains over whether some form of an independent inquiry is needed.
An issue given less attention is whether Mr Porter and other members of the Morrison government are in a position to implement the recommendations of the Australian Human Rights Commission's Respect@Work: Sexual Harassment National Inquiry Report (2020), led by Sex Discrimination Commissioner Kate Jenkins.
To date, it seems to have been a document that has 'sat on a shelf' since March 2020, and we have heard little about how the Report's 55 recommendations will be implemented.
The Report's recommendations cover five different areas ­– data and research; primary prevention; legal and regulatory frameworks; better workplace prevention and responses; and better support, advice and advocacy.
The Report has the potential to provide a blueprint and foundation for taking forward some of the answers to reform in changing the parliament house culture.
But so far the Report has rarely been referenced.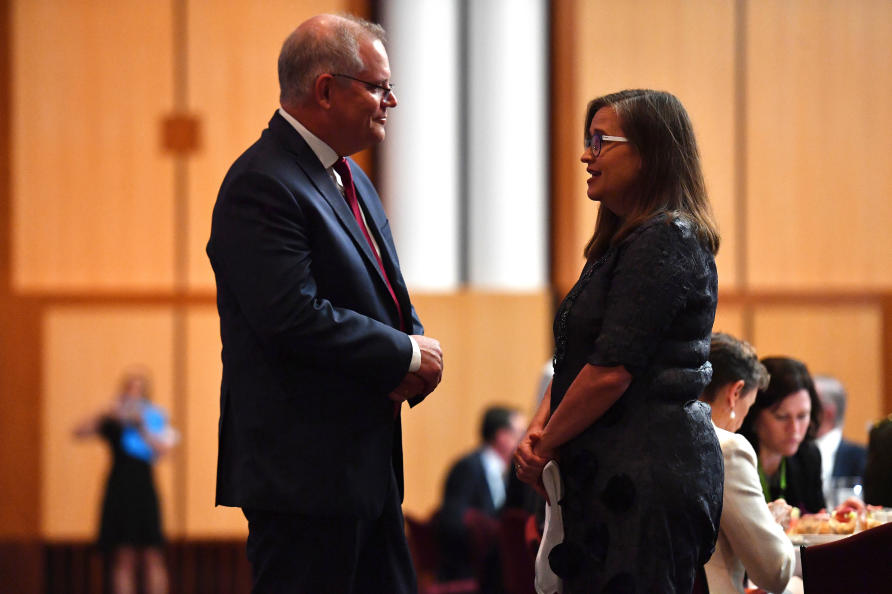 Prime Minister Scott Morrison with Sex Discrimination Commissioner Kate Jenkins. 
Prime Minister Scott Morrison hasn't promised to take these 55 recommendations forward. And at least to outward appearances, Mr Porter hasn't been proactively working on refocusing the legal and regulatory framework in this area.
One might say this isn't a surprise given the circumstances we have seen recently in the handling of the various allegations of assault, abuse and harassment in our parliament.
However, the Report is clearly now more relevant than ever.
Parliament House is a workplace and yet many of the basic protections (independent complaint process, for example) are currently not in place. The Report is therefore highly relevant locally and nationally.
So, it is all the more surprising then, that there is a 'silence' around the implications of this Report as it could provide a moment for leadership and a roadmap forward.
Legislative reform at a national level is required. A key finding of the Report was that the overlapping areas of legislation are confusing for both victims and employers, as they include the Sex Discrimination Act, state and territory anti-discrimination laws, the Fair Work Act 2009 (Cth) (Fair Work Act), state workplace relations laws, as well as work, health and safety (WHS) laws.
A new regulatory framework is recommended by the Commission and includes stronger obligations written into the Sex Discrimination Act and the establishment of a Workplace Sexual Harassment Council chaired by the Sex Discrimination Commissioner and funded by the Australian Government.
There has been little urgency in government to act on the Sex Discrimination Commissioner's recommendations. 
The question remains about whether the current Attorney General will have the necessarily interest, authority and leadership required to take forward the necessary legislation and reform in this area?
This is a test for government and potentially an opportunity to say that "we are not silencing victims, we are hearing the loud voices of those who have experienced harm".
Commissioner Kate Jenkins said she delivered the Report with both "urgency and hope" in March 2020.
So far it's hard to be convinced of any sense of urgency on sexual harassment reform, and the past couple of weeks in parliament have left a sense of despair rather than hope for many women across Australia suffering from sexual harassment, sexual abuse and sexual violence.
It will be interesting to see whether the Respect@Work Report will continue to 'sit on the shelf' or whether the Morrison Government will want to seize the moment to show some leadership in this area – which to date has not been greatly in evidence.
International Women's Day on 8th March is a day for women to celebrate. It could also be an opportunity for the Morrison Government demonstrate that they are committed to workplace reform, that they do take the voices of women seriously, and they are willing to implement the recommendations in the Report.
1800 Respect national helpline: 1800 737 732
Lifeline: 131 114
This article was published by Pursuit.
Cathy Humphreys is a Professor of Social Work at the University of Melbourne and held the Alfred Felton Chair of Child and Family Welfare for five years. She was a social work practitioner for 16 years before entering academia at the University of Warwick in the U.K.