The Female Eunuch at 50
Germaine Greer's The Female Eunuch changed lives. Published 50 years ago in October 1970, it exists in the popular imagination as a kind of shorthand for that world-historic moment when women said they'd had enough.
The book inspired women to challenge the ties binding them to gender inequality and domestic servitude. It broke marriages, or else caused some to be renegotiated on more equal terms.
The Female Eunuch told women the project of emancipation had stalled. Freedom would not be wrested from a process of reform, by "genteel, middle-class women" sitting on committees or signing petitions. To grasp their freedom, "ungenteel" women would need to "call for revolution", "disrupt society" and "unseat God".
Indeed, "marriage, the family, private property, and the state" were in the firing line.
Greer urged women to think beyond the stereotype patriarchal society had created for them, which limited their capacity to act. She likened the situation of the 1970s woman to that of a bird "made for captivity".
"The cage door had been opened but the canary had refused to fly out," Greer wrote. "The conclusion was that the cage door ought never to have been opened because canaries are made for captivity; the suggestion of an alternative had only confused and saddened them."
Women, she wrote, needed to "discover that they have a will".
Through the book's five chapters — "Body", "Soul", "Love", "Hate" and "Revolution" — Greer gradually built her famous motif of women as "eunuchs" or castrates, robbed of their natural energy. She wrote that in accepting this castrated or false identity, women had allowed the destruction of their instinct, inclination, will and capacity.
Greer's book told women — in a hopeful way — that things could be otherwise. It told them to demand a better education, to pool their childcare arrangements, to share a better washing machine or other labour-saving appliance with women in the street. It told women to challenge men's ownership of the means of production and consumer capitalism's ownership of the soul.
Smashing sexual shibboleths
Greer famously drew attention to deeply entrenched cultural constructs that linked sex to shame and disgust, calling out the hypocrisy of a society that blamed women for men's misogyny. "Women have very little idea of how much men hate them," she wrote. "The man regards her as a receptacle into which he has emptied his sperm, a kind of human spittoon."
These sexual shibboleths, she wrote, must be smashed. This was the point behind Greer's widely discussed calls to go around bra-less and wear no underpants. Own your body, she urged women, its tastes and smells, including — most memorably — your menstrual blood.
"I must confess to a thrill of shock when one of the ladies to whom this book is dedicated told me that she had tasted her own menstrual blood on the penis of her lover," Greer wrote. And yet, there are "no horrors presented in that blood, no poisons".
Greer said women must question everything they had been taught about sex, love, romance, their bodies and their rights. Freedom was theirs, but they had to take it. Action was not just collective but individual too. Agency was everything. Grab any missile, break any rule. Do it now.
In this way, The Female Eunuch spoke to, and challenged, women directly. It asked, in its famous end line, "What will you do?"
Intellectual origins
Too few discussions of Greer's work fully appreciate its intellectual origins in the libertarian ideas of the Sydney Push. Greer was born in Melbourne, educated by Irish nuns in a convent school, and yearned for a world beyond her own home, which was, she says, singularly bereft of books.
She moved to Sydney to study and fell in with a tearaway group of left libertarians known as the Push, a Bohemian movement with its origins in philosopher John Anderson's Freethought Society.
In Greer's time, the Push included soon to be luminaries such as Clive James, Richard Neville — editor of Oz magazine and a doyen of the underground culture that gathered around it in London — and Lillian Roxon, "the abundant, the golden, the eloquent, the well and badly loved", who became the New York-based correspondent for the Sydney Morning Herald, author of the Rock Encyclopedia, and is one of five women to whom The Female Eunuch is dedicated.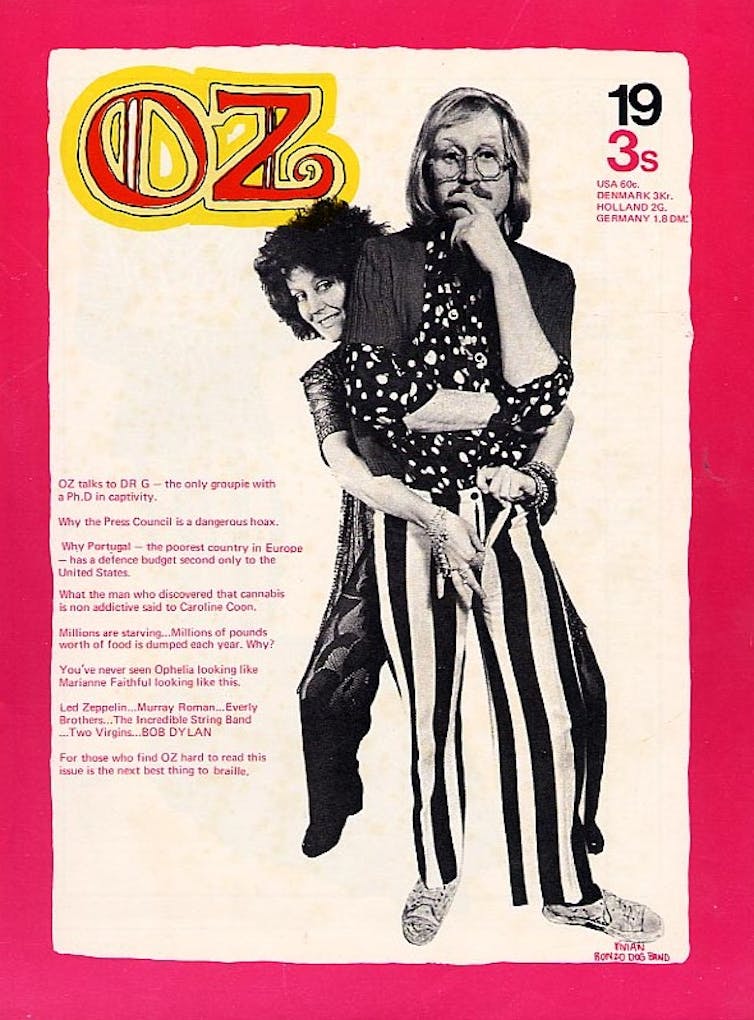 Camilla Nelson is Associate Professor in Media at the University of Notre Dame Australia. She researches in the fields of writing, gender and media cultures.