Longtime Kremlin critic Vladimir Kara-Murza has been found guilty of treason and sentenced to 25 years in prison after what the journalist and activist has dismissed as a 1930s-style "show trial".
The 41-year-old, who holds Russian and British passports, was originally detained in April 2022 and charged with criticising the Russian army. But the charge list was subsequently expanded to include treason and working for an undesirable organisation.
Kara-Murza has for years been a consistent opponent of the Russian president, Vladimir Putin. He has also been involved in anti-regime parties and think tanks including the Institute of Modern Russia and the Open Russia Foundation. He was a key proponent of the Magnitsky Act, which enabled the US government to freeze the foreign assets of Russian elites.
The law was named after tax lawyer Sergei Magnitsky, who in 2007 uncovered a corruption scheme that saw the Kremlin defraud Russian taxpayers of US$230 million (£185 million). Magnitsky was arrested, tortured and eventually died in a Moscow pre-trial detention centre.
Over the years, Kara-Murza has been a major advocate for the sanctioning Russia's pro-Putin elites by the US, UK and others, making him a prime target for the Kremlin. His standing in the Kremlin also wasn't helped by his close relationship with Boris Nemtsov, the opposition leader who was shot dead on a Moscow street in 2015.
His insistence that Putin was behind Nemtsov's death would have alienated him from the authorities even further. Three months after Nemtsov's death, Kara-Murza suffered kidney failure, which is widely thought to be been as a result of poisoning.
Two years later, Kara-Murza suffered the same symptoms, pointing to another poisoning. Naturally there were no clear links to the Kremlin, but investigative journalism group Bellingcat found that Federal Security Service agents were following Kara-Murza in 2015 and 2017 – just before both poisonings.
Stalinist repression
Kara-Murza's final court statement stated that the Putinist system had returned to 1930s show trials:
"I've been surprised by how far my trial, in its secrecy and contempt for legal norms, has surpassed even the "trials" of Soviet dissidents in the 1960s and 1970s. And that's not even to mention the harsh sentence requested by the prosecution or the talk of "enemies of the state". In this respect, we've gone beyond the 1970s – all the way back to the 1930s. As a historian, for me this is an occasion for reflection."
There has been a long history of opposition leaders and anti-Putin activists being killed or persecuted. As well as Nemtsov's murder, this includes the 2006 assassination of Alexander Litvinenko, and – just recently – the reported poisoning of Alexei Navalny. Nalvalny has been in prison since January 2021, when he was detained at Moscow airport after returning to Russia from Germany, where he had been recovering from another poisoning attempt in mid-2020.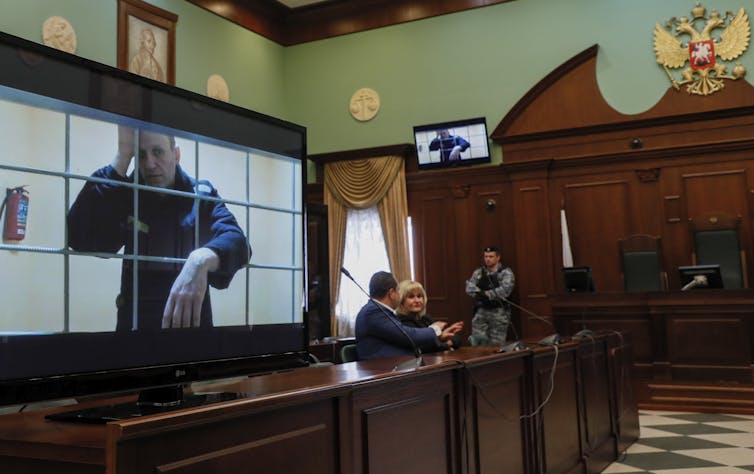 Jailed opposition politician Alexei Navalny has been poisoned in prison, as well as when living abroad.
The removal of opposition figures and the constitutional changes introduced in 2020, which effectively mean that Putin can remain in power until 2036, are strong indications of the president's desire to remain in power indefinitely.
Over three decades, Russia under Putin has become a classic "spin dictatorship". The Kremlin routinely manipulates the political process to ensure it retains power via controlling the Russian media and even via "virtual politics", where fake parties are created in a fiction designed to divide any opposition to Putin's regime.
But alongside this manipulation, Putin has presided over a regime where political opponents have been neutralised, imprisoned or murdered – Kara-Murza is merely the latest example.
Putin's police state
This repression is not limited to prominent opposition figures such as Kara-Murza and Navalny. Putin's heavy-handed approach has even led to children being arrested in Moscow in March 2022 for laying flowers outside the Ukrainian embassy.
Another child, Masha Moskaleva, now 13, who drew a anti-war picture and was denounced to the authorities by her school principal, was sent to an orphanage. Her father, Alexei Moskalev, was given a two-year sentence in part for Masha's drawing.
In early March 2022, the Russian parliament passed legislation giving 15-year prison sentences for spreading "false information" about the Russian military. And there are accounts that denunciations reminiscent of the Stalin era are on the rise again as citizens are encouraged to spy on and accuse each other.
In such circumstances it is commendable that there is anyone willing to protest at all. Flowers were laid at statues of Ukrainian writers Taras Shevchenko and Lesiya Ukrainka across Russia. Although not much, it is something under the circumstances. Although most Russians may say they support the war, in reality the picture is blurrier.
Meanwhle in late March, the Wall Street Journal's Russia correspondent, Evan Gershkovich, was arrested and charged with espionage. Not since 1986 had the Kremlin arrested a foreign journalist.
Kara-Murza said in his final court statement: "The day will come when the darkness over our country will dissipate." By creating martyrs and pushing the people into a corner, the Kremlin risks creating a situation when Russians have little to lose.
This article was published by The Conversation.