Russia's war on journalists
At least 15 media workers have been killed in Ukraine since Russia began its full-scale war in February 2022. Along with targeting civilians, hospitals, schools, orphanages, residential buildings, communications centres and places of worship, the Russian state has been accused by the National Union of Journalists of Ukraine of deliberately targeting journalists.
In a conflict such as the war in Ukraine, many journalists risk their lives to report the truth and reveal war crimes committed by both sides. But when journalists themselves are targeted, these war crimes almost always go unpunished.
Research from advocacy group Human Rights Watch has found that a de facto impunity exists for those responsible due to a lack of effort by many governments to bring killers of journalists to justice.
According to Unesco, the perpetrators go unpunished in nine out of ten cases when journalists are murdered, and this impunity "leads to more killings and is often a symptom of worsening conflict and the breakdown of law and judicial systems".
Russia is a dangerous place for journalists
Threatening, attacking, disappearing and murdering journalists is not a new tactic of war in general. It is certainly not unknown in Russia, where the state is involved in targeting or issuing assassination orders for Russian journalists such as Elena Kostyuchencko for her reporting on the war in Ukraine.
Forty-eight journalists and media workers have been killed in Russia since Vladimir Putin came to power in 1999. Many of them were killed in contract-style murders without arrests or trials.
This includes Russian war correspondent Anna Politkovskaya who was assassinated in October 2006 after covering the second Chechen war. Although it remains unclear who ordered her murder, as is the case with many journalist killings in Russia, Politkovskaya exposed corruption in Russia at the highest levels.
She wrote in her 2004 book Putin's Russia: "If you want to go on working as a journalist, it's total servility to Putin. Otherwise, it can be death, the bullet, poison, or trial – whatever our special services, Putin's guard dogs, see fit."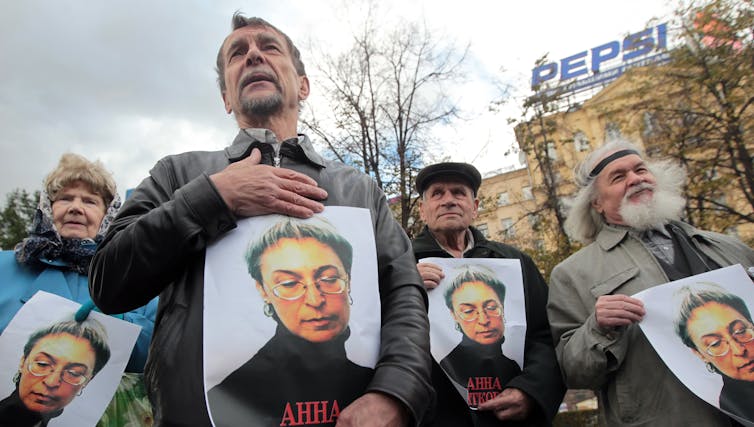 Murdered: mourners mark the anniversary of Anna Politkovskaya's death. One of Russia's top investigative journalists, she was gunned down in 2006 outside her apartment building in Moscow. 
Since Russia launched its full-scale war in Ukraine, the Kremlin has been at pains to restrict media coverage, passing new laws targeting journalists and freedom of expression. It is now a criminal offence, punishable by imprisonment, to call the war anything but a "special military operation".
In March 2022, Putin signed a law calling for prison sentences of up to 15 years for people who publish "false news" about the Russian military. In July 2022, the Russian president also signed legislation allowing Russian officials to close down foreign media organisations for what it interprets as "hostile actions against Russian media abroad".
As part of a crackdown on non-government and international media organisations, Russia has restricted access to, stripped the licensing of, or banned from operating Novaya Gazeta, Radio Echo, BBC Russia, Radio Liberty and Meduza, among others. Most independent media organisations have had to cease operations, with their reporters fleeing the country.
One broadcaster, TV Rain, was targeted by the Kremlin back in 2021 and declared a "foreign agent". Advertisers shunned it and it was forced to go online only. Then, in March 2022, when the new media laws came into force, Russian authorities suspended it over its war coverage. As a result, TV Rain was forced to operate in exile.
A dangerous but vital occupation
Less than a week into the full-scale invasion, a Sky News television crew was ambushed and shot at by Russian troops, despite the crew identifying themselves as journalists. Swiss photojournalist Guillaume Briquet was shot and robbed by Russian soldiers in southern Ukraine on March 6 2022, while driving an armoured car with visible press markings. In both instances, the media workers were able to survive the attacks and live to tell the story. Many were not.
American Brent Renaud was the first international journalist killed in Ukraine. He was travelling with documentary photographer Juan Arredondo in a car driven by a Ukrainian civilian when Russian troops opened fire on the vehicle on March 13 2022. Arredondo was wounded.
The same day, Ukrainian photojournalist Maks Levin, covering the war for Reuters, and his bodyguard Oleksiy Chernyshov were killed. An investigation by Reporters Without Borders (RSF) concluded this was a deliberate execution. The RSF report suggested they may have been killed after being interrogated and tortured.
More recently, Ukrainian journalist Bohdan Bitik was killed in April 2023 while reporting for La Repubblica near Kherson in the south of Ukraine. He and his colleague Corrado Zunino were targeted by snipers, despite wearing vests clearly identifying them as press.
Eroding international norms
Based on these cases and more, our research aims to examine the effect of these violations of international law and codified norms.
Journalists are protected as civilians under the 1949 Geneva conventions, which Russia ratified in 1954. These conventions state that during international armed conflicts, journalists are entitled to all the rights and protections granted to civilians unless they take a direct part in hostilities.
"War correspondent" is a legal term that applies to journalists who travel with forces but are not troops themselves, and who have received authorisation from the armed forces they accompany. They are also considered civilians, but have the additional protection of being treated as prisoners of war if captured (from the third Geneva convention).
Furthermore, the Rome statute of the International Criminal Court (ICC) states that intentionally attacking a civilian not taking direct part in hostilities is a war crime. The ICC cannot prosecute states or organisations, but it can prosecute individuals.
The rules that are supposed to protect journalists are being eroded, and it is becoming more commonplace for journalists to be targeted during war. It is essential – for us all – that the protections afforded to journalists under international law are scrupulously upheld, and those responsible for their deaths are caught and face the consequences.
This article was written by Kelly Bjorklund, a PhD Candidate at Staffordshire University; and Simon J Smith, an Associate Professor of Security and International Relations at the same institution.  It was published by The Conversation. The headline photo shows Swiss photojournalist Guillaume Briquet who was murdered by the Russians while reporting from Ukraine.
Kelly is a Lecturer in Communication at the University of Colorado's College of Media, Communication and Information and a PhD candidate at Staffordshire University researching how journalists have been targeted by states during conflicts.