Ukraine undoubtedly remains on top of the global political agenda. Not only did it dominate discussions at the Munich security conference, but the surprise visit of the US president, Joe Biden, to Kyiv sent an unmistakable message to Russia, and the rest of the world: the west stands with Ukraine and will not let Vladimir Putin get away with his violation of Ukraine's sovereignty and territorial integrity.
What's more, Biden's visit also underscores that the west has every confidence that the Russian president will not win this war and is finally coming round to the idea of providing Ukraine with what it needs to defeat Russia.
One year ago, things looked very different. After a prolonged military build-up, and amid heightening tensions between Russia and the west, Putin gave the order to invade Ukraine in the early hours of February 24 2022. Three days earlier, he had recognised the so-called Donetsk and Luhansk People's Republics that pro-Russian proxy forces had occupied for eight years, with significant military and economic backing from the Kremlin.
What Putin still insists on calling a "special military operation", which he expected to be completed swiftly and successfully, has gone anything but to plan. One year on, the war has ground to a very costly political, economic and above all military stalemate for both sides with no end in sight.
This situation on the ground is mirrored by a divided international community, albeit one in which Russia has few significant allies left. Ultimately, the outcome of the war will be decided as much on the battlefield as it will be in capitals from Beijing to Brussels and Washington.
Ebb and flow on the battlefield
Initial Russian gains in the early days and weeks of the war were unsustainable, as Ukrainians put up a determined defence of their country and were supported early on by western military aid. Russian attempts to take the Ukrainian capital, Kyiv, had failed by April, and the Kremlin withdrew its forces from there, redeploying them to Donbas and south-eastern Ukraine.
This enabled Russia to establish a secure land bridge to Crimea, eventually taking the southern port city of Mariupol after a prolonged and bloody siege by the middle of May and capturing all of Luhansk region by early July. As Ukraine received more advanced western artillery, Russian efforts to take all of Donetsk stalled.
Buoyed by more western military support, Ukraine launched a counter-offensive in August, regaining significant territory along the entire front and prompting a Russian retreat from Kherson in November.
This was the most significant tactical defeat Putin had suffered since the withdrawal of troops from Kyiv seven months earlier and came despite a partial mobilisation in Russia at the end of September and an air campaign to cripple Ukraine's critical national infrastructure.
A united front in the west
Ukrainians' determination to defend their country against Russian aggression from the very start of the invasion was not the only surprise for Putin. The western reaction – unprecedented sanctions and massive military and economic support for Kyiv – must have been a similarly rude awakening, in particular as the western coalition has remained largely united despite the challenges it has faced.
Military support, of course, has been the most crucial. More than €40 billion (£33.25 billion) worth of military assistance was offered to Ukraine by mid-November 2022, according to the Ukraine Support Tracker by the Kiel Institute for the World Economy. More than half of this support has been provided by the US, with the UK, EU institutions, and Germany being the next-largest contributors of arms, ammunition, equipment and training.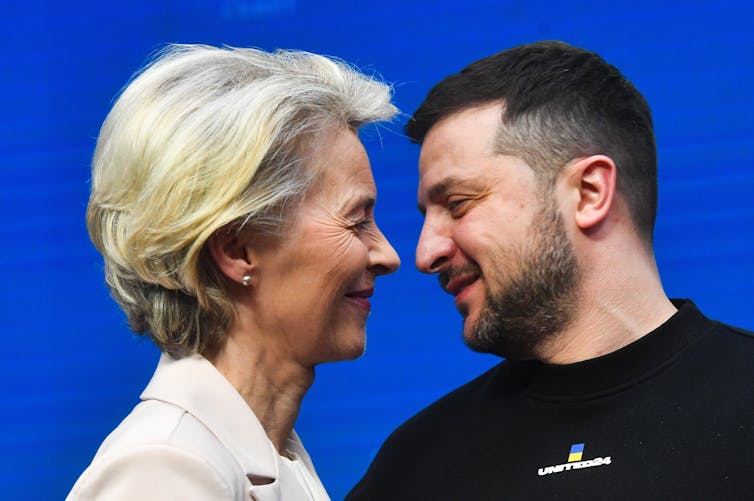 Steadfast allies: European commission president Ursula von der Leyen and Ukraine's president Volodymyr Zelensky, share a joke. 
The EU, meanwhile, is on its tenth package of sanctions against Russia now. It has also give unprecedented financial assistance to Ukraine: €9 billion of macro-financial assistance were disbursed to Ukraine by early August 2022, a further €5 billion by mid-December, and the first €3 billion of a new €18 billion package were disbursed in January 2023.
While the bulk of the EU's support has been financial and humanitarian assistance, there is also a significant military assistance component of more than €3 billion. This includes more than €100 million for the European Union Military Assistance Mission Ukraine, which will train some 15,000 Ukrainian soldiers over the next two years.
The international community
If the west has remained united in its response to the invasion, the rest of the world remains warily divided. But this hardly provides a ringing endorsement for Russia's aggression. On the contrary, a closer look at voting patterns on the five resolutions in the UN general assembly to date shows that Russia remains relatively isolated with only the support of a handful of dubious allies including Belarus, North Korea, Eritrea, Nicaragua and Syria.
Three resolutions: on Russia's aggression (on March 2 2022), on the invasion's humanitarian consequences (on March 24), and on Ukraine's territorial integrity (on October 12), saw only four countries voting with Russia against the resolution, while 140, 141, and 143 states, respectively, condemned Russia's violation of key principles of international law.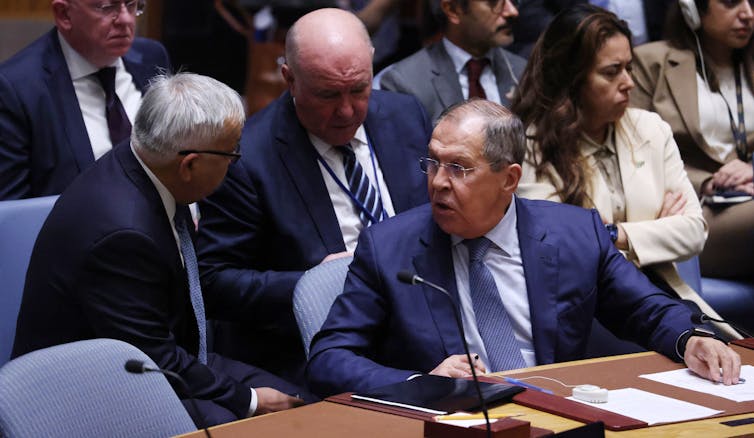 International Pariahs: Russian foreign minister, Sergey Lavrov, with his deputy Sergey Vershinin at a meeting of the UN security council in September 2022. 
In two other votes – on suspending Russia from the Human Rights Council (on April 7) and on future prosecutions of war crimes and reparations (on November 13) – support for Russia was somewhat higher with 24 and 14 votes, respectively, against the two resolutions. But more than six times as many countries voted in favour on both occasions.
Considering that no country has recognised the annexation by Russia of the Donetsk, Luhansk, Zaporizhzhya and Kherson regions, Moscow is clearly on its own when it comes to its illegal land grab in Ukraine.
Most crucially, while China has repeatedly indicated sympathy for Russia's decision to invade, it has remained steadfast in supporting Ukraine's sovereignty and territorial integrity to date. Beijing has also warned Russia against meddling in others of its neighbours.
Helping Ukraine to win
Backing Ukraine against Russia "for as long as it takes", has been the key message from western capitals for a year now – as the president of the European Commission, Ursula von der Leyen, reiterated in her speech at the World Economic Forum in Davos on January 13 this year.
There can be no question that this is what the west intends to do. What is less clear, though, is whether this means just enough assistance aimed at preventing Putin from winning or providing Ukraine with the support it needs to defeat Russia. Until now, it seems, western strategy has been too focused on the former, driven by anxieties about further escalation.
This has come at a significant cost to Ukraine. At the front lines, Kyiv still lacks the artillery, ammunition and armoured vehicles to push back Russian forces more decisively again in a future offensive. And behind the front lines, the lack of advanced air defence capabilities has made the country vulnerable to the crippling Russian attacks against its infrastructure.
Western leaders should not become comfortable with a "forever war". They must step up their support and enable Ukraine to defeat this Russian aggression and restore its full sovereignty and territorial integrity – two principles of international law that still enjoy the support of an overwhelming majority of UN member states.
This article was written by Stefan Wolff, a Professor of International Security at the University of Birmingham; and Tatyana Malyarenko, a Professor of International Relations at the National University Odesa Law Academy. It was published by The Conversation.